Posted by Bel. The time is 1.46pm here in Wellington NZ
Favourite superhero and why
There has been lots of twittering today as the
#30daysofme
tweeps cast about for superhero inspiration. It has lead to the inevitable discussion about the gender imbalance in the world of comics and cartoons, with men getting the muscles and laser beam eyes, and ladies generally standing about looking helpless and/or smitten.
Even when a female comic book superhero does manage to fight her way through patriarchal confines and onto the page, her looks and proportions are analysed in greater depth than her powers and secret identity.
As tiresome as the tiny waists and over-inflated boobs are, I would say that unfortunately the disproportionate body shapes are in line with the ridiculous broad shoulders, barrel chests and taut thighs of their male counterparts. It's the ridiculous creation of a fantasy world, and a representation that we should take no more seriously than the thought of flying around in an invisible Amazonian plane, or the assumption that no one recognises you when you whip off your spectacles.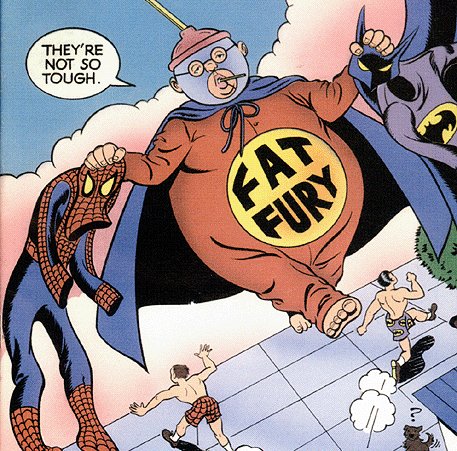 If you are wanting to read comics, and to enjoy those fantastical scenarios without the overly cliched physical stereotypes, then there are other options. One of my favourite authors is Brian K Vaughan, and yes I have met him, and yes, I had to go to Armageddon to do it. Shut up.
His series
Runaways
(created with artist Adrian Alphona) is about a group of teens who discover their latent secret powers and have to defeat a group of super villians that consists of their own parents. Heavy stuff, but this is also as snappy and funny as any prime-time comedy - and braver about dealing with the issues that you actually do when you're that age (regular teens dramz, as well as that whole super powers thing).
(Just did some intense nerdy googling and discovered a film adaptation is in pre-production and the director of
Raising Victor Vargas
is attached. SWOON!!)
On the other end of the 'family friendly' scale is Vaughan's
Y: The Last Man,
created with Pia Guerra. The post-apocalytic setting of this series is overhung by a global disaster which has wiped out everything with a Y chromosome - except our rather lacklustre protagonist, Yorick and his pet monkey.
This is a great read - less depressing than
The Road
, more relevant than
Girlfriend In A Coma
, and sexier than
Children of Men
. Get a
sneak peek over at Salon
of some of the first book.
PRO TIP:
Comics are just the thing for reading when illness/a hangover is keeping you trapped in bed but you can't quite summon up the energy to keep ploughing through that Virginia Woolf you've been so dedicated about.
E.g: